Fall is here! Now, I've heard some people argue that fall doesn't start yet, and for them that's fine. But for me . . . well, fall started the moment September began! And what better way to pass the chilly fall nights than with fresh popped popcorn, a cozy blanket, and a new to you Netflix show?
Everybody has their favorite shows to queue up, but I wouldn't suggest anything I didn't absolutely love. These are my absolute favorite shows to pull up.
My go to shows.
My ride or dies.
Supernatural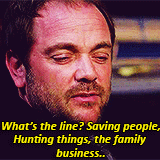 I don't typically do shows about scary things, but I happened to find this marathoning one night on TV and I fell in love with Jensen Ackles – the guy who plays Dean. Supernatural is about two brothers – Sam and Dean – that, thanks to their father, cross the country saving people from various supernatural things. They call it the "Family Business".
The show is funny, heartwarming, heartbreaking, and inspiring all in one. Jensen Ackles (Dean) and Jared Padalecki (Sam) are just as wonderful off screen as they are on. Padalecki went public with his struggle with depression and, with the help of Ackles, has raised thousands of dollars for various charities. You can learn a little more about this awesome thing here. Plus, Misha Collins and Mark Sheppard are heartthrobs.
Seasons on Netflix :: 14
White Collar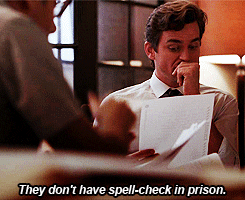 I honestly cannot recommend this show enough! I love cop shows and this is such a fun twist on that typical trope. A well dressed, white collar criminal teams up with the FBI to bring down other white collar criminals. Matt Bomer and Tim DeKay ( Neal Caffrey and Peter Burke) star across a never ending line up of amazing supporting actors and actresses.
You will constantly be saying,
"Oh, it's that person from that one thing!" You might recognize Bomer from Magic Mike, The Magnificent Seven, or Chuck. He's basically a jack of all trades – he can sing, dance, and act wonderfully. DeKay was in Party of Five, New Adventures of Old Christine, and Get Smart. He's brilliantly funny and absolutely adorable. One of my favorite parts of the show is that you are constantly learning new things. Plus, Kelly Kapowski (Tiffani Thiessen) plays Agent Burke's funny and very helpful better half, Elizabeth.
*As of May 2020, White Collar has been moved to Hulu; all six seasons are available for streaming.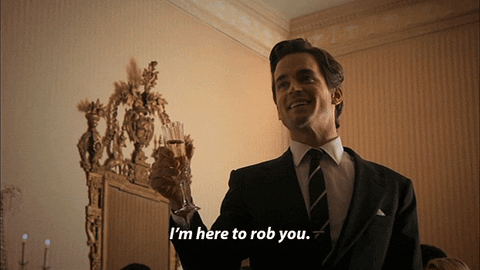 Seasons on Netflix :: 6
Criminal Minds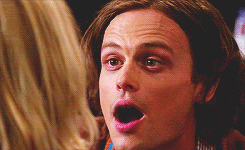 I jumped on this train way back when this show was a baby. I was flipping through channels late one night and came across an adorable, young Matthew Grey Gubler in a old man sweater talking about coordinates and plotting them on a map. I'm not going to lie, I stopped and watched the rest of the episode because I adore him, but I stayed season after season because this show is smart, complicated, and intriguing. It challenges the way you look at your neighbors, the lady next to you on the train, and everybody in general. I've probably seen each season two or three times.
The cast is brilliant – Shemar Moore (left before last season), A.J. Cook, Joe Mantegna, Kirsten Vangsness, and Paget Brewster to name a few. Thomas Gibson left last season as well.
Criminal Minds follows a FBI team tasked with hunting and catching the perpetrators of serial or violent crimes. It's easy to fall in love with this team as you follow them through difficult times in their personal and professional lives.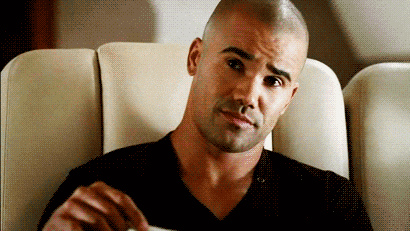 Seasons on Netflix :: 12
The Blacklist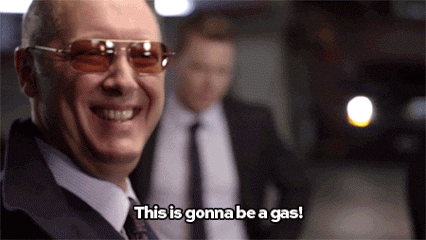 I'm watching this show as I type this post. This is another show I started watching because of an actor. James Spader stole my heart when I saw him in Pretty in Pink, prompting me to become a devoted Boston Legal watcher. So when Cody told me he was staring in a new show, I knew I had to see if it was up to snuff. Well, it is.
Lucky for me, it's a fun take on the typical cop show (my favorite). Raymond Reddington (Spader) turns himself in to the FBI after manages to elude them for years on Elizabeth Keen's (Megan Boone) first day as an FBI profiler. Raymond manages to turn her entire life upside down, uncovering a plethora of secrets, including who her husband – Tom Keen – actually is. Tom Keen is played by the brilliant Ryan Eggold.Add in tons of great actors and actresses and it's actually wonderful.
Sometimes the show is a bit far fetched, but it builds the narrative on the idea that these instances would be considered far fetched to the average person. Personally, I cannot get enough and lucky for me, season four was just added to Netflix.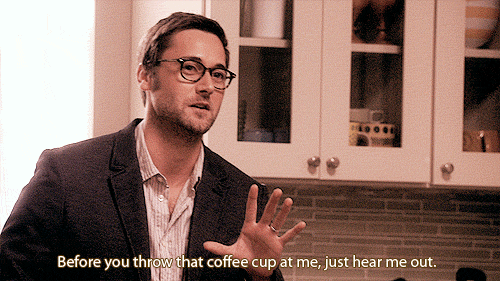 Seasons on Netflix :: 6
Sherlock
How could I suggest shows to you without adding in this brilliant masterpiece? I couldn't, honest.
Martin Freeman and Benedict Cumberbatch are stunning in this remake of Arthur Conan Doyle's detective masterpiece. Obviously this show follows Sherlock Holmes and John Watson as they solve crimes and right wrongs. This show is incredibly well written with amazing layers. It isn't a show you can have playing in the background while you read without missing something.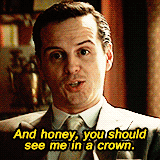 Bonus – Andrew Scott.
But seriously, watch it.
Seasons of Netflix :: 4
---
I've shared my favorites with you, now share yours with me! Let me know what shows you can't help but watch over and over.
Related :: Holiday Movies I Love
Happy Netflixing!